A recent study published in the Journal Menopause (September 2016) has found that Acupuncture could be an effective treatment for the reduction of hot flashes. About half the study participants had a reduction in the frequency of hot flashes after 8 weeks of treatment.
"Women bothered by hot flashes and night sweats may want to give acupuncture a try as a relatively low-cost, low-risk treatment," said Nancy Avis, Ph.D., lead author of the study and professor of Public Health Sciences at Wake Forest School of Medicine. "Women will know pretty quickly if acupuncture will work for them. Those who had a reduction in their hot flashes saw a benefit beginning after about three to four weeks of weekly treatments."
The current medical treatment of hot flashes with hormone replacement therapy (HRT) -and even bioidentical hormones- comes with adverse long-term consequences. Namely, it puts women at increased risk for breast and ovarian cancer. This may be enough to hinder some from using such treatments and choosing to bear the discomfort of hot flashes. There's however an alternative effective, and risk-free treatment with acupuncture.
To Learn more about acupuncture treatments with me and a complete list of what acupuncture has been studied to treat, see here. Contrary to what many may fear, acupuncture needles are hair-thin and cause minimal discomfort upon insertion.
If the thought of becoming a human pin cushion prevents you from seeking this safe and effective treatment, let it be known that my personal philosophy regarding acupuncture is that if a medical treatment causes pain, discomfort or tension, the resulting release of stress hormones renders the treatment ineffective.
Ensuring your comfort during your treatment is thereby of utmost importance to me. My primary goal for your acupuncture sessions is your comfort during treatment.
Do consider giving this therapy a chance at transforming your health and wellbeing and bringing you comfort and ease.
If you're ready to find out whether acupuncture could help treat your menopausal symptoms, book your session here.
Yours In Health,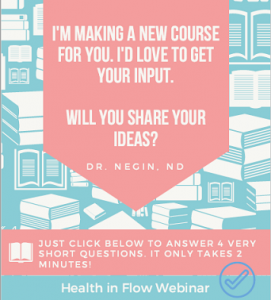 Dr. Negin, ND
P.S. I'm making a new free online course for you. I'd love your input! Will you Share Your Ideas? Just see below to answer 4 very short questions. It'll only take 2 minutes! Also, check out Bonus question and answer to get early access.
[typeform_embed type="embed" url="https://drnegin.typeform.com/to/BEx38W"]
To get your acupuncture treatments started call the office and book your appointment in London ontario Byron (boler & baseline rd) at MOOi Wellness Clinic!